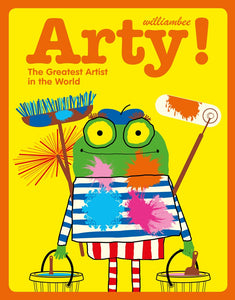 Arty! The Greatest Artist In The World
Meet Arty, the frog that paints—and find out how he became the world's greatest artist!
Arty is a frog—but not just any frog. He's the greatest artist in the whole wide world! Join him and his agent, Mr. Grimaldi, and find out how Arty became famous by painting a series of record-setting masterpieces. Along the way, they end up in lots of strange and funny situations, from balancing on a stepladder at the top of Mount Everest to being strapped to the wing of a supersonic plane. Kids will laugh at Arty's antics even as they're inspired to get creative themselves.