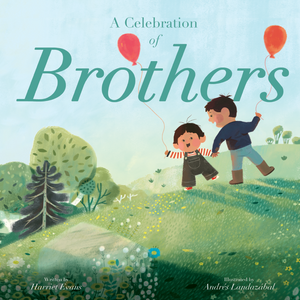 A Celebration of Brothers
These charming odes to family life give big brothers and big sisters (existing and soon-to-be!) a gentle way to celebrate their nearest and dearest.
"I love having books like this to remind my kids just how lucky they are to have each other."
-- Oh, the Books We Love!
"In this Celebration of Brothers and Sisters, audiences see all varieties of brother and sister going through life's up and downs together."
--

 

Little Cub Literacy
"These are the sweetest books that celebrate the sisters and brothers in our lives: half-sibling, step-siblings, adopted siblings, the siblings we choose for ourselves. ... It's a joyous celebration in words and pictures, as multicultural families celebrate their relationships together. ... Jubilant illustrations and happy rhyming verses make these great readalouds."
-- Mom Read It
"Delivering just what its title promises, Evans' rhyming text and Landazábal's accompanying illustrations present readers with an idealized vision of brotherly love. ...with illustrations depicting diverse siblings enjoying one another's company. ... Sweet additions to the picture-book family."
-- Kirkus Reviews