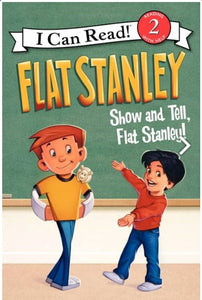 Flat Stanley: Show-and-Tell, Flat Stanley!
Brown, Jeff
Flat Stanley's show-and-tell becomes a lost-and-found when Miss Plum's engagement ring goes missing in this I Can Read story.
Arthur decides to bring Stanley to school for show-and-tell. All of Arthur's classmates have something fun to share, from Squeakers the mouse to a pair of false teeth. Even Miss Plum shares something—a new engagement ring! But when Squeakers runs off with her ring, it's up to Stanley to save the day.

Beginning readers will love this I Can Read adventure starring Flat Stanley, the beloved classic character that sparked a worldwide mailing phenomenon.