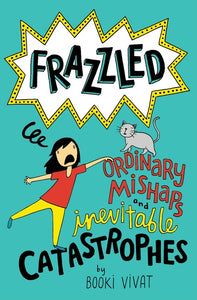 Frazzled Ordinary Mishaps and Inevitable Catastrophes
From New York Times bestselling author-illustrator Booki Vivat comes the second installment of the heavily illustrated and embarrassingly honest Frazzled series.
Abbie Wu is once again totally freaking out. Her science teacher is forcing her to work in pairs, and her partner is the new girl in school. To make matters worse there's a locker mix-up at Pointdexter Middle School. At home, things aren't much better—there's a new addition to the Wu family: a cat who watches her every move. But Abbie will learn that the unexpected can be surprising and that even when things go wrong, it's not the end of the world.
Packed with hilarious black-and-white illustrations and doodles throughout, Frazzled #2: Ordinary Mishaps and Inevitable Catastrophes takes readers through Abbie Wu's hysterical middle school adventures.