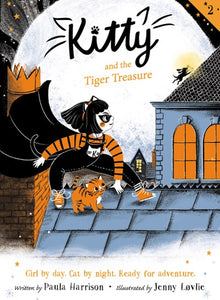 Kitty and the Tiger Treasure
Girl by day. Cat by night. Ready for an adventure. Meet Kitty, a charming chapter book character with catlike superpowers. In book two in this chapter book series, Kitty must recover the priceless Golden Tiger treasure after it's stolen by a dog burglar. With dramatic two-color art on every page and an emphasis on friendship, family, and building self-confidence, the Kitty books are the perfect choice for newly independent readers.
When a new exhibition arrives at the local museum, Kitty is excited to see its most prized artifact—the Golden Tiger—but she knows her cat, Pumpkin, is disappointed that pets aren't allowed to visit the galleries. That night, Kitty decides to use her catlike superpowers to sneak Pumpkin into the museum. When they arrive, it's just in time to see a dog stealing the Golden Tiger statue! The museum's security cat, Cleo, is devastated that she let the bandit get away. But never fear! Kitty and Pumpkin are there to help Cleo track down the pup and recover the statue before morning.
Kitty and the Tiger Treasure
 is the second book in a chapter book series about Kitty and her superhero adventures. With an aspirational main character, a kindle of cats, striking two-color art on every page, and fun activities at the back of the book, these chapter books are just right for independent readers and fans of Rebecca Elliott's Owl Diaries.