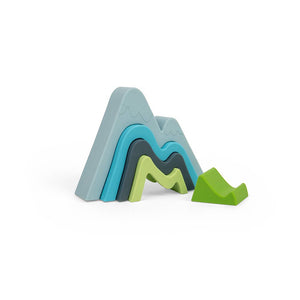 Mountain Stacker
A stacking toy with altitude! Mini explorers can bring the great outdoors into their playrooms with our silicone Mountain Stacker. It features five mountain-shaped toys that can be creatively stacked or slotted together to create a colourful nursery decoration.
Stacking toys help active bambinos develop their dexterity and hand-eye coordination. Our Mountain Stacker also inspires open-ended play, which boosts youngsters' imagination and storytelling skills.
Silicone baby toys are also handy for teething tots, as they are soft, pliable and non-toxic. Made from 100% silicone. Easy to clean with warm water and mild soap.
Mountain Stacker product features:
5 mountain-shaped stacking toys
Made from 100% silicone
Easy to keep clean
Dishwasher safe