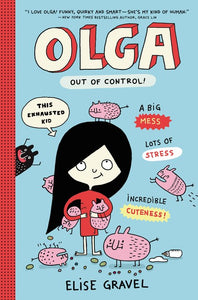 Olga Out of Control!
Olga, the science-loving girl in the red dress, is back—and she's finding out how hard it is to be a mom. It's true! Olga's beloved companion, Meh, has had seven babies, and Olga is coping with a messy houseful of babies and a lot more!
Meh, Olga's beloved Olgamus, is now a mom!  She has a litter of adorable babies that look like spring rolls. But the babies aren't just adorable—they're a handful! How can Olga stop them from covering her house in rainbow poop if she's busy making sure they're fed?
Can Olga keep it all under control?
Packing in thrice the girl power, hilarious quips, and kooky science facts of the previous books,
Olga: Out of Control
is Olga's most wacky adventure yet. Perfect for fans of
Dear Dumb Diary
and
My Big Fat Zombie Goldfish
, and great preparation for
El Deafo
,
Roller Girl
, and
Smile
.