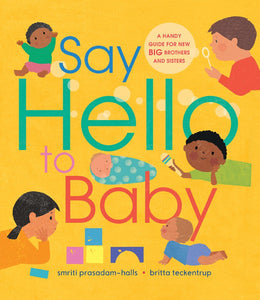 Say Hello to Baby
A handy guide for new BIG brothers and sisters who are welcoming a new baby into the family. Covering the first 18 months of baby's life, this book helps readers bond with the new arrival and explains some key developmental milestones to look out for. Fact-filled guide packed with fun and safe suggestions for how siblings can interact and play with Baby.
"...the perfect guide to help inform big brothers and sisters about the upcoming birth of their newest family member."
-- Meridian Magazine, "Newton's Book News: Babies, Books & Baby Books Everywhere"
"
Say Hello to Baby
is a perfect guide for siblings as they adjust once the new baby makes its debut. Honestly, the facts here are useful for new parents just as much as they are for new siblings! The research-based suggestions for ways children can interact with baby brother or sister are fantastic!"
-- Little Cub Literacy