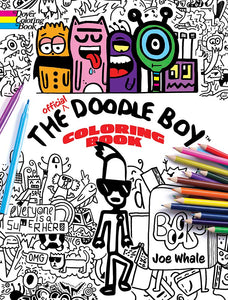 The Official Doodle Boy Coloring Book
Welcome to a fantastic world of doodles! Over 90 pages of awesome art are waiting for your creative color choices to make them your own. The delightful doodles are the original creations of Joe Whale, also known as the "Doodle Boy," an inspirational young artist who's been painting and drawing from a very young age. He's made many television appearances in the United States and his native United Kingdom, and his signature doodles have earned him many social media followers.
Joe says he gets his inspiration from his surroundings, and that means he can create endless characters and see them all come to life. "When I doodle it makes me feel like the most happy person in the world because I can express myself fully as there is no right or wrong in art." He hopes that kids everywhere will be inspired by his amazing creative adventure and will have the opportunity to pursue their dreams, too. Joe's cool doodles are also available as original artworks, clothing, and prints.
"For any child who loves to let his/her imagination soar. Created by an eleven-year-boy with a passion for doodling, this coloring book focuses on the thoughts and dreams of children who cannot stop moving that pencil. If you know a doodler, put this book on your must-purchase list." — Barbara Ann Mojica, Little Miss History
 "The Official Doodle Boy™ Coloring Book serves as an inspiration and proof that it's a-okay to doodle all over everything." — The Children's Book Review
"Kids who appreciate humor and creativity are sure to enjoy this one-of-a-kind coloring book." — icefairy's Treasure Chest
"It's a fun coloring book that shows a lot of imagination. I haven't seen anything done in this style before. The coloring pages seem to celebrate fun and using creativity. The strokes are bold and full of a remarkable style and creativity that's attractive, modern, fun, and unique. I think even preteens, teens, and adults will enjoy coloring this book." — Life is What It's Called
"Everyone loves to doodle and The Doodle Boy has made a wonderful coloring book that elementary age and middle school children will love to color. " — Lisa's Reading
"There are some really cute and inspirational phrases all the way to a page filled with dancing dinosaurs!"  — The Momma Spot
"It's a great escape for an afternoon, the perfect way to bring everyone together for a little colorful fun, and a colorful way to encourage your kiddos (or your own!) creativity!" — Satisfaction for Insatiable Readers
"All four of my kids give The Doodle Boy Coloring Book two enthusiastic thumbs up!" — Some the Wiser