Posted by Erin Babb on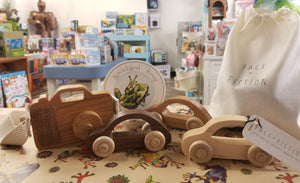 Meet Our New Independent Toy Makers!    We are excited to announce that we have recently started carrying independent toy makers in our store!   Help us welcome our newest brands Crayon Rocks and Fact + Fiction.  We are so lucky to be able to carry these awesome brands, we hope you love them as much as we do! Crayon Rocks   Crayon Rocks were created by Barbra Lee, a special education teachers from California. She created these soy wax based crayons to aid children in developing their prewriting skills. The crayons are shaped in a way that encourages children...
Tags:

Camera, Cars, Coloring, Crayon Rocks, Fact + Fiction, Fact and Fiction, Independent, Indie, New, Toys, Wooden Toys
Posted by Erin Babb on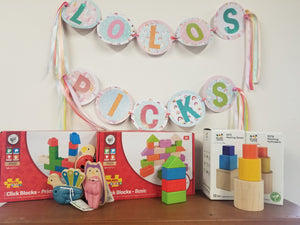 If you have visited Speckled Frog Toys & Books, chances are that you have met Lorelei, our resident toddler. She comes to work every day with Mama and GobGob (Grandma) and she loves it!   LoLo loves making new friends and showing them the toys she thinks they will like. LoLo's new friends often say, "You get to grow up in a toy store! How lucky!" then ask, "What does Lorelei play with?" Lorelei is always more than happy to show you her favorite toys. LoLo has inspired us to run a monthly sale that features three toys that have...